Mount Everest Base Camp Trek
On my first morning in the Himalayas I stepped out of the tea house into the crisp mountain air. It was just after sunrise, the clouds still masked the surrounding peaks. I was up around 8,000 feet. I looked below a few thousand feet and saw lush green forest sprinkled with small farms. Looking up 10,000 feet I could see the massive peaks we were about to conquer. While trying to take all of this in, the clouds suddenly opened up and left me breathless; I couldn't believe I was staring at the snowy peaks 20,000 feet above me. I stood there in awe.
It was September 2011 and I was wrapping up a five-month world-traveling adventure that took me through Central America, Europe and Asia. I was in India and had a little over 2 weeks to kill before I had to be back in Michigan for my sister's wedding. I had dreamt of trekking in Nepal since seeing photos of my friend's trip a few years back. I was so close! If it was possible, I knew I was going to make it happen. After a few quick Google searches I found out that the conditions were currently ideal for trekking in Nepal. Game on. I bought a last minute ticket from Delhi to Kathmandu and I was on my way.
Now, I don't usually book through travel agencies – treks like these are usually way overpriced and are almost always doable alone, or at least cheaper if you just show up at the trailhead. This time, due to the tight deadline of sister's wedding, I didn't want to mess around. I spent a day shopping around in Kathmandu for trekking agencies and a few essential pieces of gear. I booked a reasonably priced English speaking guide for the following day.
I showed up at the trekking agency at 4:30 the following morning. When I arrived I was told all flights were delayed due to cloud coverage, so I waited… and waited. At about 11am I was told all the flights were cancelled. Apparently this was pretty common since the airport we were flying into, Lukla Airport, has a long history of plane crashes. In fact, it's regularly listed as the most dangerous airport in the world.
The next morning I arrived at the same time and was greeted by my guide, Pasang. We quickly sped off to the airport; the weather looked good. We cleared security and sat at the gate waiting and waiting… and waiting. The flights were delayed, then delayed some more. At 2pm they cancelled all flights. I went back to my hotel feeling defeated.
I had one more shot: if I couldn't fly out the next day I wouldn't have enough time. I wasn't going to risk missing my flight home. I was already feeling guilty pushing my adventures to arrive home just 3 days before my sister's wedding – she's my only sibling and we're really close. I had one more chance to fly out.
Again, I showed up at 4:30am and off we went. My guide seemed optimistic. We arrived at the airport, went through security, got to our gate, and onto the plane. As the plane took off I breathed a sigh of relief, although in the back of my mind I knew I had no room for error from here on out.
This isn't a trek you can sprint up, the lack of oxygen at this height won't allow you to. You have to take it slow the entire way, stopping in a few villages for days to acclimate to the altitude. Pushing yourself is not an option no matter how fit you think you are. The recommended pace at this altitude already guarantees symptoms like shortened breathing, blue lips and fingers, headache and insomnia. If you push yourself any faster your body will retaliate with all kinds of things you don't want: vomiting, fluid in the lungs and brain, blood coming out of both ends, loss of consciousness, coma and even death.
I saw quite a few people coming down with some these symptoms. One day we passed an older man who was severely sick; the day after we got news that he passed away. So, again, this was not your average summertime stroll through the foothills – these are the Himalayas. The king of all mountain ranges.
Our first flight from Kathmandu to Lukla got rerouted to Phalpu due to cloud coverage. My guide, Pasang and I stayed the night at the only tea house in Phalpu. The next morning we walked down the road to the tiny airport. We saw our plane coming in for a landing. It circled and circled and circled again, then flew away. We sat on the runway for hours, confused and without any information. Finally one of the two airport employees came to tell us the air traffic controller "got lost" on his walk to work. After 3 hours, a tiny plane arrived to take us the final 30 minutes to the trailhead.
On our second day we experienced a huge 6.8 earthquake. The epicenter was 80 miles away; it killed 20 people. The whole village of Namche Bazaar, where we were staying, shook that night, threatening to bring it down. Bottles were falling from the shelves as we looked at each other wondering if this was it. I had never experienced an earthquake before, so I assumed it was a landslide. I will never forget the thunderous sounds that shook the steep ground on which the village clung to. We ran out of the tea house expecting the worst, all we could hear were cries and little girls screaming. Aside from structural damage, the village was still standing.
I remember being engulfed in the clouds with only 20 feet of visibility. It was a powerful feeling looking out knowing that some of the world's largest and most dramatic peaks were shooting up 15,000 feet above. Then the clouds parted and revealed this beautiful scene.
We passed hundreds of yaks, which were used to bring food and supplies to the villages along the trail. This is the best method of transporting goods, since the nearest road is a week long walk from the start of the trail.
Halfway up the trail we came upon a memorial dedicated to the sherpas and climbers who died while attempting to summit Mount Everest. There are about 100 memorials scattered around this area, it was quite a sobering sight. 
While the views were incredibly breathtaking, exploring the tranquil villages and meeting the sweet locals was the highlight of my experience.
After 9 days we finally made it to the last village before Everest base camp. The following morning at 5:30 we climbed Kala Pathar, a peak overlooking Mount Everest. This brought us up to 18,500 feet: the highest point I've ever stood in my life.
The view of Mount Everest at sunrise from the top of Kala Pathar.
We made our final trek to Mount Everest base camp. I was out of breath and my head was pounding from the altitude, but at this point nothing would stop me.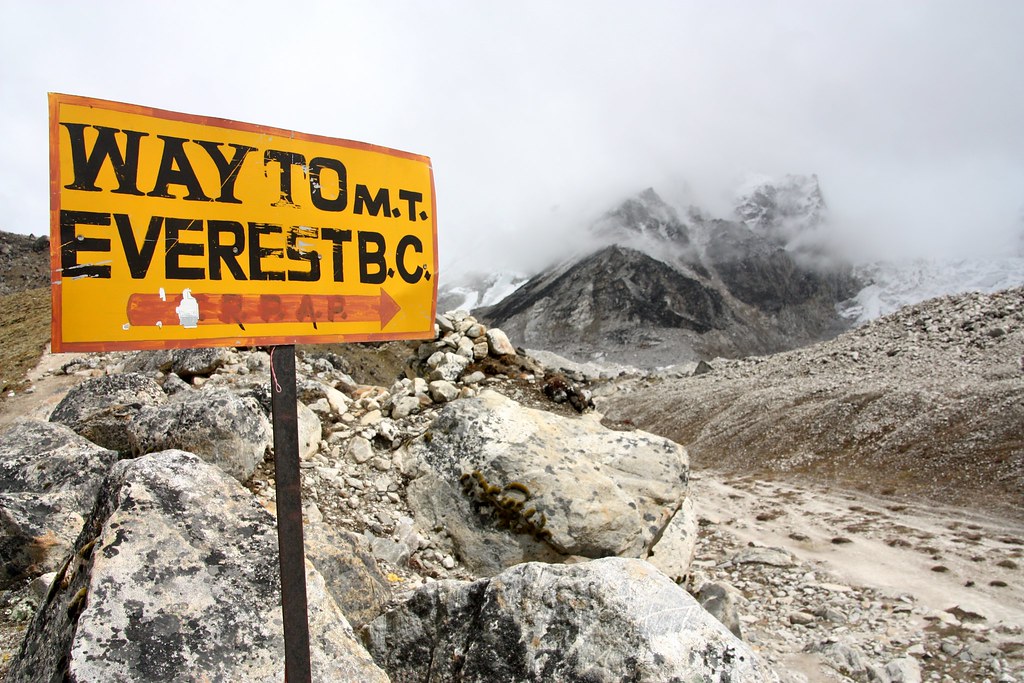 After 9 days of trekking I finally made it to Mount Everest base camp.
Now came the real challenge… Getting home.
I had a wedding to catch and was about as far away from home as possible. Don't get me wrong, trekking up was no small feat, but now I had 3 days to trek all the way back down, grab a bag I left along the way, and catch a flight to Kathmandu. Once in Kathmandu I had another bag to grab and a flight to India the following morning. Once in India I had a 6 hour layover to get into the city to grab one final bag I had left 7 weeks before. Then a 16 hour flight straight to Chicago and another flight into Detroit.
On the way down we got news that a tourist flight had crashed near Kathmandu killing 20 people. It seemed as though people had been dying around me for weeks and the earth was crumbling beneath my feet. My sisters wedding was less than a week away. How could I be so selfish? What was I doing on the other side of the world? Crossing off silly adventures from my bucket list, was this worth it? 
Then we came across this bridge, only it no longer looked like this; a landslide had taken out the suspension, leaving it crippled and dangling. This forced us to make an hour detour taking us up and over the landslide, which in hindsight was probably more dangerous than crossing the damaged bridge.
It took 9 days to hike up and a quick 3 days to get back down. Luckily, I arrived at the airport a day early to ensure I had as much time as possible to fly out. I spent half the day waiting for a free seat on a plane. I was told I could fly out on a tiny cargo plane that held 5 people, I accepted. We crammed 3 passengers into the plane along with stacks of bags. The passenger in the back had bags stacked up on and around him until all we could see was his head. Apparently he was as desperate as I was to get home.
The plane started down the runway and when I say down, I literally mean down a pitch that ended abruptly at the edge of a steep cliff. Once in the air, the pilot made a sharp left turn to avoid the huge mountain directly in front of us. 
I made it back to Michigan and even managed to collect all of my bags. My sister's wedding was on October 8, 2011. It was 80 degrees on a sunny fall day. I have never been so grateful to be home and surrounded by so much love. After a crazy 5 months that took me through 11 countries on 3 continents, after countless adventures and experiences, this wedding topped them all. It was the most beautiful day of my life and I was happy to be home.